Bayern Munich booked their place in the last 16 of the Champions League as Robert Lewandowski and Ivan Perisic's goals saw them beat Olympiakos.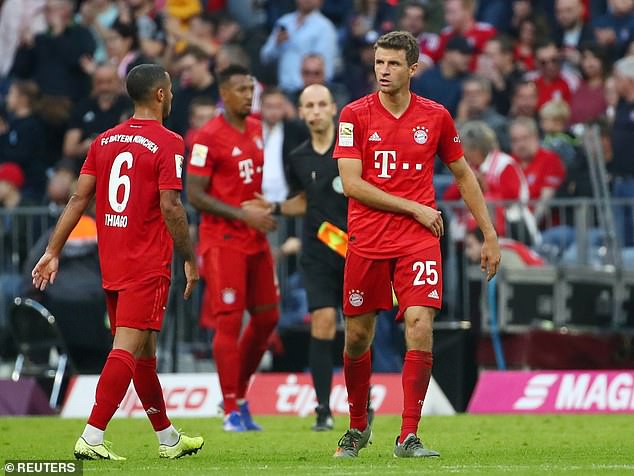 The home side's fourth win from four in Group B saw them bounce back from Saturday's crushing 5-1 loss at Eintracht Frankfurt in the Bundesliga.
Read Also;Ex-Arsenal coach set for Bayern Munich talks
Lewandowski tucked home Kingsley Coman's ball to the near post after a relatively dull first hour of the game.
Substitute Perisic doubled the lead with his first touch late on.
function appendFbScript() { var js, id = 'facebook-jssdk', fjs = document.getElementsByTagName('script')[0];
if (document.getElementById(id)) return; js = document.createElement('script'); js.id = id; js.src = "https://connect.facebook.net/en_US/sdk.js#xfbml=1&appId=474481306711139&version=v2.0"; fjs.parentNode.insertBefore(js, fjs);
window.fbAsyncInit = function () { FB.init({ appId: '474481306711139', xfbml: true, version: 'v2.0' }); FB.Event.subscribe('comment.create', function (comment_data) { console.log(comment_data); update_comments_count(); }); FB.Event.subscribe('comment.remove', function (comment_data) { update_comments_count(); });
function update_comments_count(comment_data, comment_action) { jQuery.ajax({ type: 'GET', dataType: 'json', url: 'https://sportinglife.ng/wp-admin/admin-ajax.php', data: { action: 'clear_better_facebook_comments', post_id: '878783' }, success: function (data) { // todo sync comments count here! data have the counts }, error: function (i, b) { // todo } } ) }; };
appendFbScript(); }
appendFbScript();
})();