Captain of Nigerias U17 team Samson Tijani has apologized after the sides exit from the FIFA World Cup in the Round of 16.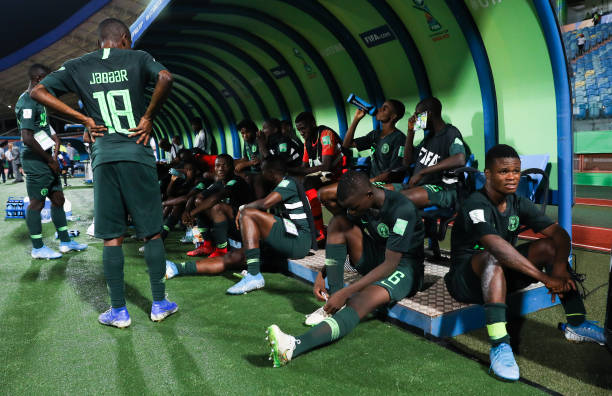 Nigeria fell 3-1 to the Netherlands on Wednesday to see their campaign in Brazil come to a halt.
Tijani told revealed that the team was unlucky and undone by a very good side.
We are very sorry; We as a team to the entire Nigerians. We tried our best but the result was down to hard-luck coupled with the fact that our opponents are a very good side.
I want to thank my teammates also, we all put our best but thats how far God said we can go in this tournament.
Read Also:Golden Eaglets react to Nigerias exit from U17 World Cup
Our team had to succumb to the pressure from our opponent, we tried to calm the pressure and we were able to achieve that until the dying minutes where VAR had to suppress us with that penalty.
That alone weakened our morale and it is already late for a come back at that minute, said the Eaglets captain.
if (document.getElementById(id)) return; js = document.createElement('script'); js.id = id; js.src = "https://connect.facebook.net/en_US/sdk.js#xfbml=1&appId=474481306711139&version=v2.0"; fjs.parentNode.insertBefore(js, fjs);
window.fbAsyncInit = function () { FB.init({ appId: '474481306711139', xfbml: true, version: 'v2.0' }); FB.Event.subscribe('comment.create', function (comment_data) { console.log(comment_data); update_comments_count(); }); FB.Event.subscribe('comment.remove', function (comment_data) { update_comments_count(); });
function update_comments_count(comment_data, comment_action) { jQuery.ajax({ type: 'GET', dataType: 'json', url: 'https://sportinglife.ng/wp-admin/admin-ajax.php', data: { action: 'clear_better_facebook_comments', post_id: '878785' }, success: function (data) { // todo sync comments count here! data have the counts }, error: function (i, b) { // todo } } ) }; };
appendFbScript(); }
appendFbScript();
})();