Diego Simeone's tenure at Atletico Madrid could be coming to an end – fuelling talk over a move to the Premier League.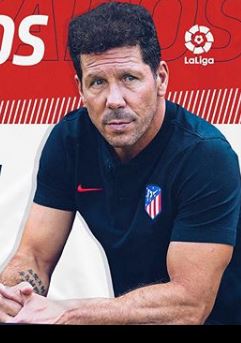 Simeone, 49, has been in charge of the La Liga giants since 2011, winning the La Liga title and Europa League twice.
 
Atletico have reached the final of the Champions League twice in the last six years but it appears Simeone's cycle is coming to an end.
The club sold Antoine Griezmann and Rodri in the summer while stalwart Diego Godin also moved on, with Atletico in sixth in the La Liga table.
MARCA reports some members of the board are disappointed with Simeone and the current state of affairs, claiming a 'divorce is on the horizon'.
That could put Premier League clubs on red alert with Arsenal on the lookout for a new manager.
Everton boss Marco Silva is also on the verge of the sack while Ole Gunnar Solskjaer is also under pressure at Manchester United.
Diego Simeone heading for Atletico Madrid 'divorce' amid links to Arsenal and Everton. [Mirror]https://t.co/2yG1kfmgo8 pic.twitter.com/0H0XO1JJ8y

— ARSENAL (@tomgunner14) December 4, 2019
Read Also:Everton coach outlines three qualities Iwobi, others must possess at Anfield
While Everton may appear an unlikely destination, the Premier League club did sound out the Argentine in 2017.
Simeone was said to be curious about the project at Goodison Park back then, although the Toffees are now hovering perilously above the drop zone.
function appendFbScript() { var js, id = 'facebook-jssdk', fjs = document.getElementsByTagName('script')[0];
if (document.getElementById(id)) return; js = document.createElement('script'); js.id = id; js.src = "https://connect.facebook.net/en_US/sdk.js#xfbml=1&appId=474481306711139&version=v2.0"; fjs.parentNode.insertBefore(js, fjs);
window.fbAsyncInit = function () { FB.init({ appId: '474481306711139', xfbml: true, version: 'v2.0' }); FB.Event.subscribe('comment.create', function (comment_data) { console.log(comment_data); update_comments_count(); }); FB.Event.subscribe('comment.remove', function (comment_data) { update_comments_count(); });
function update_comments_count(comment_data, comment_action) { jQuery.ajax({ type: 'GET', dataType: 'json', url: 'https://sportinglife.ng/wp-admin/admin-ajax.php', data: { action: 'clear_better_facebook_comments', post_id: '884046' }, success: function (data) { // todo sync comments count here! data have the counts }, error: function (i, b) { // todo } } ) }; };
appendFbScript(); }
appendFbScript();
})();