Carlo Ancelotti has broken his silence after he was sacked by Napoli – with Arsenal and Everton highly interested.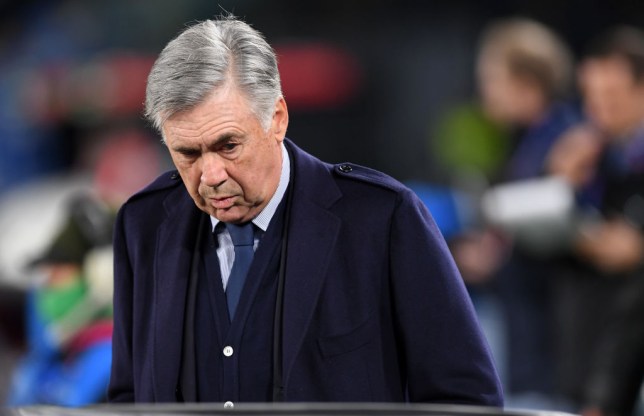 Italian Ancelotti was ditched by the Serie A club on Tuesday night after their 4-0 victory over Genk – which confirmed their place in the Champions League knockout stages.
Ancelotti tweeted on Wednesday to speak for the first time: "I would like to personally thank the Club, its employees, my players, my staff and the president for the opportunity to live an unforgettable experience in a wonderful city such as Naples."
Read Also:Top Seria A coach faces sack after players shun training
The former Chelsea chief has been linked with both the vacant Gunners and Toffee roles – after Unai Emery and Marco Silva were dumped by the respective outfits.
function appendFbScript() { var js, id = 'facebook-jssdk', fjs = document.getElementsByTagName('script')[0];
if (document.getElementById(id)) return; js = document.createElement('script'); js.id = id; js.src = "https://connect.facebook.net/en_US/sdk.js#xfbml=1&appId=474481306711139&version=v2.0"; fjs.parentNode.insertBefore(js, fjs);
window.fbAsyncInit = function () { FB.init({ appId: '474481306711139', xfbml: true, version: 'v2.0' }); FB.Event.subscribe('comment.create', function (comment_data) { console.log(comment_data); update_comments_count(); }); FB.Event.subscribe('comment.remove', function (comment_data) { update_comments_count(); });
function update_comments_count(comment_data, comment_action) { jQuery.ajax({ type: 'GET', dataType: 'json', url: 'https://sportinglife.ng/wp-admin/admin-ajax.php', data: { action: 'clear_better_facebook_comments', post_id: '885115' }, success: function (data) { // todo sync comments count here! data have the counts }, error: function (i, b) { // todo } } ) }; };
appendFbScript(); }
appendFbScript();
})();